Hey
...schön, dass du auf meinem privaten Blog gelandet bist. Ich bin Reni und wohne in der Nähe von Hamburg. Ich habe das Glück, Freizeit und Beruf verknüpfen zu können, denn seit 2012 arbeite ich für
www.danipeuss.de
, einem Onlineshop für Scrapbooking, Papierbasteln und Mixed Media, wo ich u.a. ein tolles
Design Team
betreue. Wenn ich nicht arbeite, oder versuche, kreativ zu sein, greife ich auch gern und häufig zu einer Back-/Kochzeitschrift (Lecker geht immer) oder gehe das Abenteuer Garten an. Wenn du Fragen zu meinen
Karten
oder anderen Beiträgen hast, schreib mir einfach. Ich helfe gern :)
...great seeing you at my personal blog. My name is Reni and I'm living near Hamburg/Germany. After my academic studies I was lucky to combine job and hobby by working for danipeuss.de, an online shop for scrapbooking, papercraft and mixed media. When I'm not working or trying to be creative, I like to try some new recipes or delve into the adventures of gardening. Feel free to contact me, if you have any questions concerning my cards or other creative work :)
Kreativsüchtig Magazin
[September 1017] Die neueste Bastelzeitschrift auf dem deutschen Markt dreht sich voll und ganz um das Basteln mit Papier und darüber hinaus. Um so mehr freue ich mich, die beiden Schöpferinnen Mel und Julia bei ihrem ersten Magazin mit meinen Karten unterstützen zu dürfen.
Happy Insta-Girls
[Oktober 2015] Ich bin ein
Happy Insta Girl
. Das ist eine Gruppe kartenbastelnder Mädels, die sich über Instagram kennengelernt haben. 2015 hat
Birka
die Happy Insta Girls ins Leben gerufen, weil gemeinsam kreativ sein und ein Hobby zu teilen einfach Spaß macht. Seitdem schicken wir uns in unregelmäßigen Abständen im Wichtel-Style echte, liebevoll selbstgemachte Karten, über die wir anschließend bloggen und auf Instagram berichten. Bei so viel Talent in der Gruppe ist das zwar immer eine Herausforderung, aber ich bin gern dabei und freue mich riesig, ein Teil dieser tollen Truppe zu sein :) Klicke einfach auf den Link oder Banner, um zu den Beiträgen der anderen Mädels zu gelangen. Inspiration pur, sag ich dir!
I'm proud to be a Happy Insta Girl :) We're a group of German card makers that got to know each other at Instagram. In 2015 Birka brought the Happy Insta Girls to life and since then we're sending each other (secretly) handmade cards in irregular intervals, that we show at Instagram and our blogs. There's so much talent in that group that it is always a challenge to create something matching and unique. But I love it and am happy to be part of this great group :) Simply click onto the link or banner to get to the post of the other girls. There's lots of inspiration waiting for you!
Kartenchallenges
Ich nutze gern Kartenchallenges als Inspiration und Herausforderung für meine Karten. Bei der
danipeuss Kartenchallenge
bin ich regelmäßig dabei. Um so mehr freue ich mich natürlich darüber, wenn sie auch anderen gefallen. Hier wurde ich genannt und bin stolz wie bolle darüber ;) Vielen Dank!
I love to use card challenges as inspiration and challenge for my creations and am amazed when others like them. Here my cards were mentioned - I'm honored and oh so happy. Thank you!
Simon Says Monday Challenge
:
Food and/or Drink
mit
Altenew Coffee is a hug in a mug
– Sandra says: This card is so pretty! Love the stamp set and the way she colored those in. They look like real illustrations. The background really is fitting for this theme with the staining and love the cute sentiment!
– Kath says: I too loved this gorgeous card…the watercolour background set off the images beautifully and I loved the sentiment "Coffee Is A Hug In A Mug"
My Favorite Things
:
Wednesday Sketch Challenge #321
mit
Wir feiern dich, denn du bist absolut großartig
Simon Says Monday Challenge
:
Make your own background
mit
Cheers
Challenge up your life
:
Wasserfarben
mit
Hat hier jemand Party gesagt?
"Top 3"
05/2016
Inkspire-me
:
Muttertagskarte / Vatertagskarte
mit Muttertagskarte
Best mom ever | Avery Elle
"Gewonnen hat Reni von Kartenwind mit ihrer Muttertagskarte im Aquarell-Design."
Lawnscaping Challenge
:
Sweets
mit
Süße Kaffeeflecken
"How fun! This card looks good enough to eat."
03/2016
#42 Tag it!
mit
Versteckte Haseneier
"...Und nein, das ist nich die Belohnung dafür, dass Reni dieses Mal an den Sketch gedacht hat, und nein, das liegt auch nicht daran, dass ich seit einer Woche totaaal verrückt nach ihren Freebies bin (Wiebke hat ja schließlich ausgesucht.. hihi). Die Karte ist einfach wow! Die Faaaarbe! Ich wüsste nichtmal, welche ich da nehmen würde. Bei mir gibts irgendwie nur pink und türkis. Oder Orange. Aber dann richtig. Ihre Farbe ist irgendiwe so peachig, dazu der kleine Zaubereffekt mit Hasi und überhaupt, ach, Reni, ein Traum. Ich hoffe, ihr alle seid nun nicht zu traurig und freut euch vielleicht mit Reni :-) "
#35 Alles geht
mit
Warmen Eisbären Grüßen
"...weil die Karte so wunderbar CAS ist und zeigt, wie man weiß genial coloriert!"
12/2015
#34 Last Minute Weihnachtskarte
mit
Weihnachtskinderkarten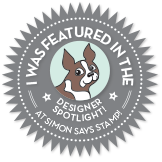 11/2015
So Glossy
mit
Zipfelmützenkarte
"I love this Christmas card! The inking on the background is fabulous and the stitching on the card and hat is so fun. The hand drawn stars add just the right touch of Christmas magic."